Best of Sicily
Feb 7 – 20 2015
Well we have done our very first organized tour. It was a Rick Steves "Best of Sicily". Not knowing what to expect, our expectations went from "it's Rick Steves so it will be good" all the way to "oh boy, if it's Tuesday it must be Belgium". (That's for you old movie buffs, if you don't know it, go rent it). Turns out we had a blast!!!! Met great people, terrific tour guides, and of course Sicily was magnificent.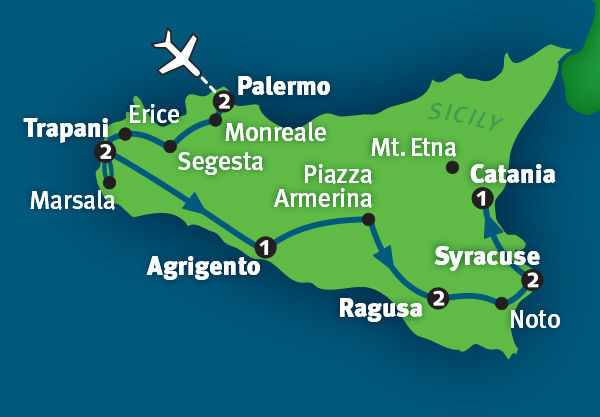 So without further ado ——
Sicily in 11 days. Very abbreviated listing. We were busy every minute and walked our feet off.
Day 0 – We took the sleeper train from Lucca to Palermo. Fun, but we have been in better trains in Italy. For one it had no food car. Odd for a 16 hour ride. But in Villa San Giovanni the train is loaded onto a ferry and we sail over to Messina Sicily. Then the train is off loaded and we are on our way to Palermo.
Day 1 – Palermo. Welcome meeting with group, tour of a private palazzo and a great dinner.
Day 2 – Palermo and Monreale. Bus ride to hill top town of Monreale. Back to Palermo for a walking tour.
Day 3 – Ancient Segesta and mountaintop Erice. Ancient Greek temples spread over about 8 miles. Some of the best preserved Greek temples in the world. Bus ride up to Erice. Nice hill top town renowned for its dolce. Unfortunately the clouds moved in and we could barely see a thing. Yes, that high up.
Day 4 – Trapani. Coastal town of Trapani, known for its sea salt. Then a boat ride to a small island and some nice scenery.
Day 5 – Agrigento. Visited an amazing archeological museum and walked around this lovely town.
Day 6 and 7 – Ragusa and surrounding area. Sightseeing all day. Made pasta by hand. Ours didn't look exactly like the cooks' but we had fun. Then a great meal.
Day 8 – Noto. Sightseeing of some original Sicilian Baroque. Fabulous tour of Cathedral of St. Nicholas. Walking tour and another great dinner.
Day 9 – Siracusa. All day walking around an impressive town. Visted a Greek theater and archeological park. In evening saw a traditional Sicilian puppet show. Puppets were 4 feet tall and had exquisite detail. Plot was a bit confusing even after it was explained to us.
Day 10 – Catania. Walking tour and then our farewell dinner, which was in an old winery. The wine and food were fantastic.
Day 11 – Catania and Goodbye to Sicily. Most everyone left early to catch flights home. We had a noonish train to catch so walked around a bit and said goodbye to Sicily. Night train back home to Lucca. We had a amazing time, ate amazing food and met great people. We will be going back. So much more to see.