Mediterranean Cruise
7 – 18 March 2015
Norwegian Cruise Lines (NCL) – Jade
---
Our first cruise in Europe was on the Norwegian Jade for an 11 day voyage in the Mediterranean Sea. We left from Civitavecchia (Rome) and stopped at Livorno, Italy; Monte Carlo, Monaco; Toulon, France; Barcelona, Spain; Valencia, Spain; Cagliari, Sardinia; Palermo, Italy; Naples, Italy; and back to Civitavecchia, with 2 sea days tossed in.
Enjoy the trip!
See the complete trip photo album here.
---
Day 0, Civitavecchia (Rome), Italy.
7 March 2015

The trip started with a train ride from Lucca to Civitavecchia. From the train station we walked a few kilometers to the entrance of the port where we waited with other passengers for the bus which took us to the ship. We went through check-in, dropped off our bags and finally got onboard. We then actually found our room with minimal effort. In the room we noticed that all the information and brochures were in Italian. This made us wonder till we realized I had checked in with my Italian passport so they assumed we were Italian. Then we all headed for the show room (were the nightly entertainment/shows are held) and had a rather lame but funny life boat drill. Actually, information only, as we just sat as crewmen put life jackets on and off. The ship departed and we were off on our first European cruise.
Next stop Livorno Italy.

---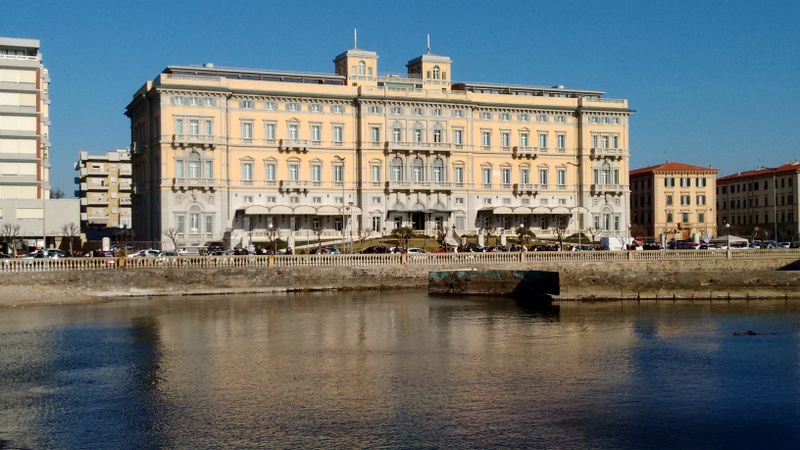 Day 1 – Livorno, Italy
8 March 2015
We ported in Livorno which for most passengers was the jump off point for tours to Florence and Pisa and interestingly to Lucca. We joked that if we had forgotten anything, we could take a 30 minute train ride and we would be home. We instead went into Livorno which we knew nothing about. It turns out it is a fascinating city. We took a city sponsored boat tour of the canals. It seems that the guy who built Livorno loved Venice and realized that canals would make most of the city accessible to the port and would make trade easy. The ride from the boat really showed off the city and its history. After the tour we took a bus along the shore looking for a restaurant that was highly recommended by locals. We could not find it but ended up at a beautiful promenade along the sea, full of locals just strolling along. Seems every city / town / village in Italy has a place for the daily passeggiata (stroll). A walk, bus ride and we were back at the ship and leaving for our next port, Monte Carlo.
---
Day 2 – Monte Carlo, Monaco.
9 March 2015
Life styles of the rich and famous. From our ship we could see the yachts in Monte Carlo harbor, the Casino and the "small" homes on the hill side. We walked from the ship alongside the harbor and headed up the mountain to the Palace. Caught the changing of the guard and had a lovely walk down the mountain. The walkway passes through gardens, shops and museums. We then had lunch at probably the only McDonalds with a magnificent view of Monte Carlo. Yes we ate at a fast food place! We had limited time and it was right next to the Kings Auto museum, and we wanted to be sure to have enough time to see the museum. It has an amazing collection of vehicles from horse and buggy to Formula 1 cars. Then off to the Casino. We didn't go in but wandered around the grounds. I was Cary Grant and Donna was Grace Kelly. OK, so we aren't even close but it was a fun time in Monaco, and points to whomever can name the movie.
Next stop Toulon France.
---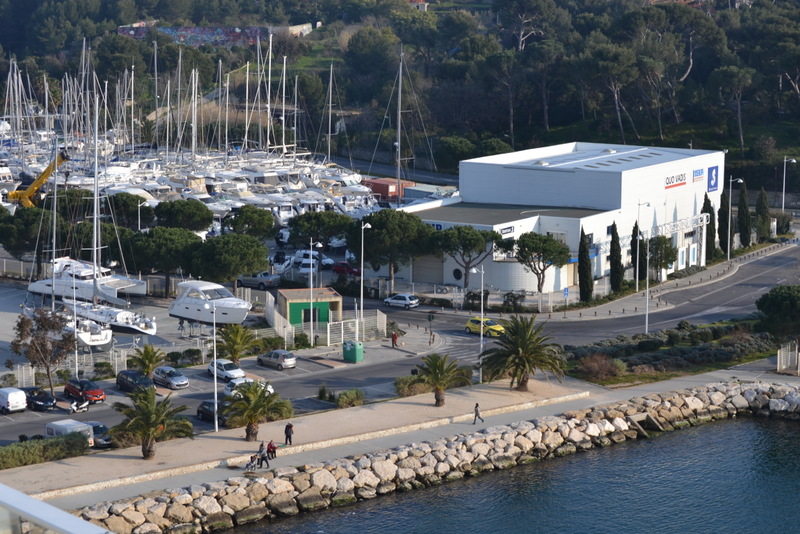 Day 3 – Toulon, France
10 March 2015
Toulon is a city in southern France on the Mediterranean coast, and has a major French naval base with a large military harbor. That comes from Wikipedia, but it also is a lovely French city with beautiful architecture. We just walked around for a few hours, had a café, and then back to the ship.
Next stop Barcelona Spain.
---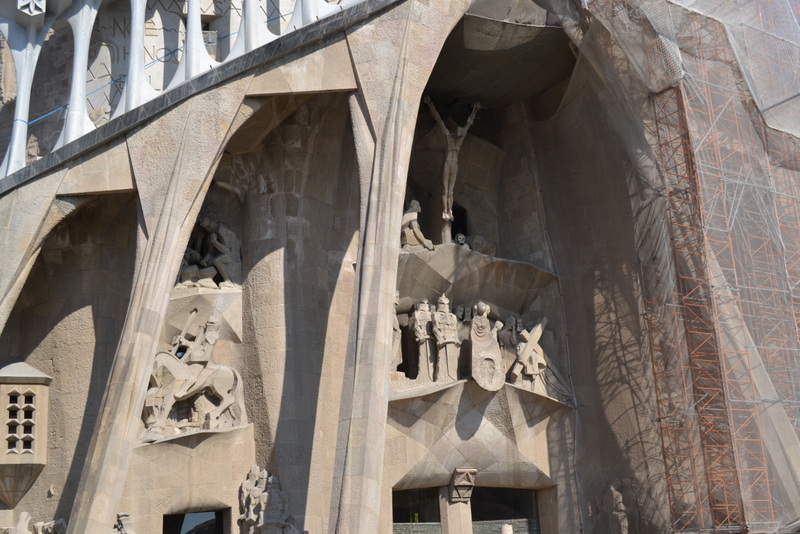 Day 4 – Barcelona, Spain
11 March 2015
We took a HopOn HopOff bus tour of the city. The main sights we saw were the Barri Gòtic (Catalan for "Gothic Quarter"), the center of the old city of Barcelona, and the Sagrada Família, the church designed by Antoni Gaudi which has been under construction since 1882, and is completely financed by private donations. A plaque on the wall says completion is planned for 2026. We saw two other buildings also by Gaudí, the Casa Milà (La Pedrera), and Casa Vicens. We then realized the ship was leaving in less than an hour so we headed down the boulevard of La Rambla towards the bus stop to catch the ride back to the ship. It was further than we thought, so we hailed a taxi and had him drive us all the way back to the ship. We made it with 10 minutes to spare!
Next stop Valencia Spain.

---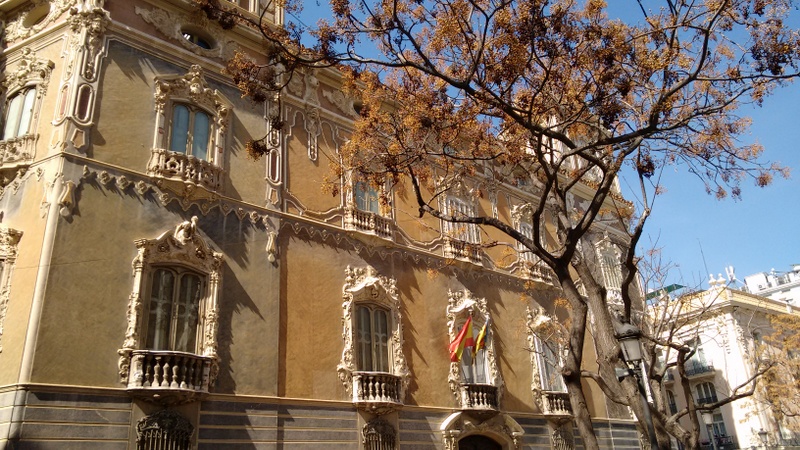 Day 5 – Valencia, Spain
12 March 2015
We had big plans for Valencia — find food and sunscreen lotion. What we found was a huge festival. We took the cruise bus from the port to the old section of Valencia. We walked in towards what the map indicated was the center of old town and its church. As we came out of a small store for the ever important sunscreen lotion, we ended up in a square filled with people dressed in old Spanish-style clothing. It was a great sight! We ended up having a café and a pastry as we watched them walking around, taking pictures of each other, and letting us tourists take pictures. We did some more wandering and ended up in another plaza where a band was practicing. We knew something was up but had no idea what. We went into a huge indoor market which was in an old building with beautiful stone work and arches. We left and headed down the main street of old town and all the side roads were blocked and people were lining up on each side. Obviously a huge parade was coming by. We worked our way in and out of side roads back to our bus and then back to our ship.
---
Day 6 – At sea
13 March 2015
Finally a day of rest. We were exhausted from 5 nonstop days of playing tourist.
Next stop Cagliari Sardinia.
---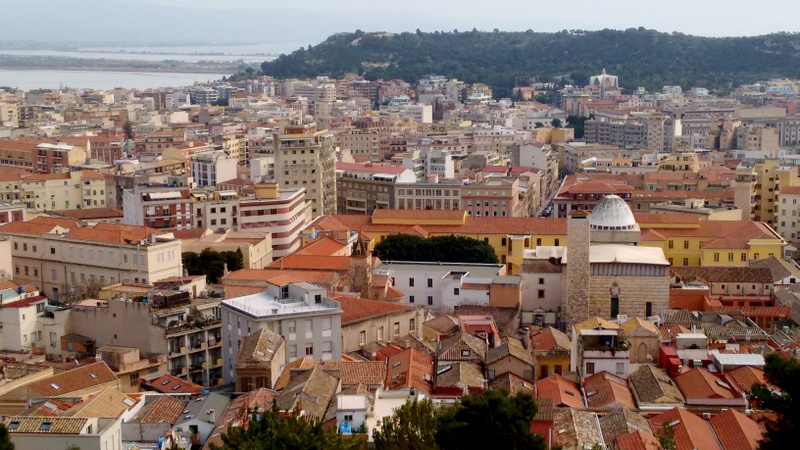 Day 7 – Cagliari, Sardinia
14 March 2015
We found out it's pronounced just like Calgary (Canada). The whole of Sardinia was conquered by the Pisans way back when, so we didn't tell anyone we live near Pisa. After departing the ship, we took a city bus to the old medieval town of Castello, which is on a hill overlooking the bay. Most of the city walls are still intact and we had a tremendous view of the city and bay. We exited out through the walls, headed down towards the port, and ate lunch at a lovely little restaurant. Food was great and the owner even sang a song to Donna. We continued down and visited the cathedral and town hall and wandered through the streets like we usually do. It's such a great way to see the real city and its people.
---
Day 8 – At Sea
15 March 2015
A sea day to rest for our next stop Palermo Sicily.
---
Day 9 – Palermo, Sicily.
16 March 2015
Having been to Palermo on our Rick Steves tour a few months prior, we skipped the usual tours and just walked a section of the city that we had not seen before. Again, lots of amazing architecture, churches, a lovely park and of course FOOD.
Next stop Naples Italy.
---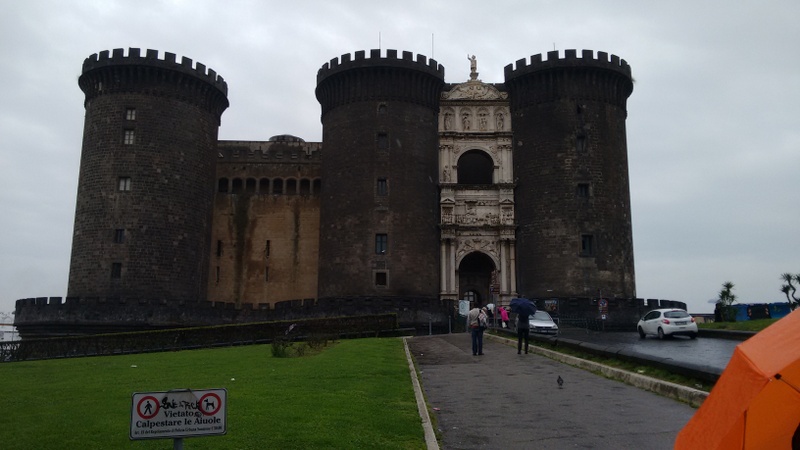 Day 10 – Naples, Italy.
17 March 2015
Ahh . . . Napoli. What can you say? Well Wiki says "Naples is one of the oldest continuously inhabited cities in the world." Didn't know that! Turns out there were Bronze Age Greek settlements established there in the second millennium BC. Now I, on the other hand, think of pizza and a Dean Martin song. We left the port and went into a castle that used to defend the port. Then walked to the Galleria Umberto I, a huge and beautiful shopping center, and then wound our way through back streets until we stopped for pizza. Then we headed back to the ship in a not so straight line as we didn't actually know where we were.
Next stop Civitavecchia Italy, back were we started.

---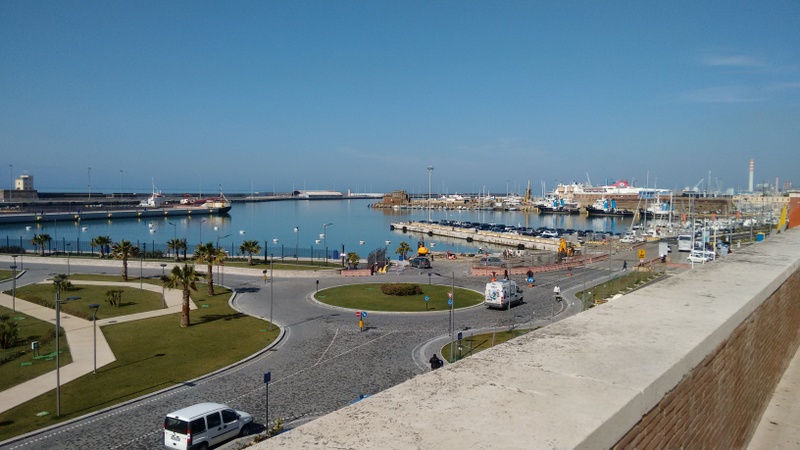 Day 11 – Civitavecchia (Rome), Italy
18 March 2015
End of our cruise. We enjoyed it immensely. Saw lots of places we would not have seen on our own and unfortunately ate way too much.
A walk to the train station, then a 2 hour ride to Pisa, then back to Lucca.
See the complete trip photo album here.